How about ringing in the new year with a six-pack of science fiction stories?  My latest collection, Six Scifi Stories Volume Four, is now on sale and ready to blow the lid off your pork and sauerkraut.  You can order it here for the Kindle, here for the Nook, and here for other formats…or search for it by name on your favorite e-reading device.  Here's the cover art by the one and only blazing Ben Baldwin his own bad self: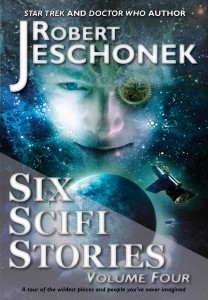 And here's a rundown of the stories you'll find inside.  One of them, "Tempus Fugitive," is only available in this volume at this time.
"Warning! Do Not Read This Story!":  An entire town wiped out…by a rogue story? Anyone who hears or reads it launches into a murder-suicide spree, and its power is about to spread to the rest of the world. Only Carrol and Sascha LaVerge, mystic problem-solving sisters extraordinaire, stand in its way. But can they outsmart the story with a mind of its own before it comes up with a plot twist that traps them in the ultimate unhappy ending?
"Tempus Fugitive":  In a realm where time itself comes to life, the hunt is on for a fugitive minute, 12:30 P.M. Time on Earth stands still as the hunters close in, determined to force 12:30 P.M. to take his rightful place in the timestream…but one last hope exists. Only by seizing it can 12:30 P.M. prevent one of the darkest events in human history from becoming a terrible reality.
"Luminaria":  On a day known forever as The Silencing, millions of human colonists went missing in space without a trace. Fifty years later, a team of explorers mounts a search, riding a space elevator into the heart of the unknown. One scientist, Gabriel Shard, holds the key to the truth, the last chance to recover the missing…but he might just die before he can use it.
"The Secret of the Ultimate Male Enhancement":  The male enhancement of tomorrow has everything from shape-changing powers to a mind of its own. But what happens when this miraculous endowment refuses to cooperate with its new owner?
"The Memory of You Lingers":  Baird the convicted rapist knows no peace. Ten years of haunting by the digital ghost of his victim, Frieda, have left him a basket case…but freedom awaits. If he can just make it till tomorrow, his sentence will end, and the digital ghost will become vaporware. But Frieda has no intention of leaving quietly.
"Tijuana, Massachusetts":  Why does Cape Cod, Massachusetts keep changing into Tijuana, Mexico? Don't ask Patty, the foul-mouthed everything-hater with a memory full of holes. Every time the lump on her head buzzes, Cape Cod becomes Tijuana or vice versa. Has Patty lost her mind, or is someone–or something–driving her crazy?

Send to Kindle