What if you had to choose between your life's work and your memory? What matters most: what you leave behind, or what you remember? These questions are at the heart of my new story, "As If My Every Word Has Turned To Glass." You can read it in the latest issue of Pulp Literature, a fiction magazine now available for pre-order. Here's a look at the cover: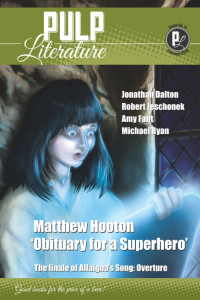 You can pre-order the paper copy or e-book from the Pulp Literature folks right here. You will also be able to order the magazine soon on Amazon.com.
In "As If My Every Word Has Turned To Glass," a renowned fiction writer suffers from Alzheimer's disease…but his memories return when a special doctor reads the writer's famous works aloud. It's a miracle cure–but the writer's books and stories vanish from the face of the Earth after each memory comes back to him. Will he sacrifice everything he's ever written to regain his past in full? Or will he choose the magic of the written word over the memories that make him who he is?
Be sure to check out this twisty dark fantasy in the spirit of The Twilight Zone, plus the rest of the very cool lineup of tales in this collection of unique and thought-provoking short fiction.

Send to Kindle