Time for a very cool milestone! One of my stories leads off the latest issue of a magazine…Galaxy's Edge #12. The story, "A Little Song, A Little Dance, A Little Apocalypse Down Your Pants," takes a look at what becomes of comedy in a far future universe. When humanity can work miracles and anything is possible, what does it take to make people laugh? The answer to that question gets pretty insane, to say the least. Here's the front cover of Galaxy's Edge #12, edited by legendary scifi luminary Mike Resnick: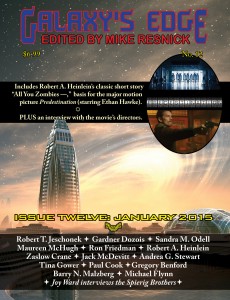 You can order a copy of the magazine right here at the Galaxy's Edge website. You can order the Kindle edition right here or by searching for it on your Kindle device, and you can order a paper copy of the magazine from Amazon right here. You can also read my story online for free right here.
This is the first time that one of my stories has led off an issue of a fiction magazine. I'm especially glad because this particular story is straight from "Planet Bob," the crazy, edgy side of my fiction universe. Best of all, it was a comeback story for me, written to recover from a bumpy period in my creative life. I'm thrilled that it came out like it did, and that Mike and Galaxy's Edge had faith enough to give it the lead slot in this issue.

Send to Kindle