Lately, I've been moving full steam ahead on my newest project, a nonfiction book about the Glosser Brothers Department Store in my hometown of Johnstown, PA. The new book is coming along fantastically well…and taking shape just as we honor a very special occasion:  the 25th anniversary of the closing of Glosser's Department Store!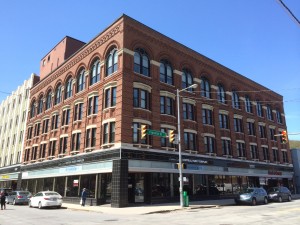 The 25th anniversary of the last day the store was open arrives on Monday, May 26th. Tuesday, May 27th marks the 25th anniversary of the official closing. So the timing of this book, as you can see, is perfect…and I'm including the anniversary celebration in its pages. In fact, you can hear me talk about the big event on a local radio station, WNTJ, 1490 AM. I'll be interviewed on a show called Johnstown Live! by the show's host (and local booster) Ralph DeMarco. I hope you'll tune in on Monday, May 19 from 7:00-9:00AM to hear the interview. If you're outside the local listening area, I'll try to post the interview at a later date for your enjoyment.
During the show, I'll be talking about the Glosser Employee Reunion I've set up in honor of the 25th anniversary. If you or someone you know worked at the Glosser Brothers Department Store in Johnstown, please let them know that we'll have a special reunion get-together and photo shoot on Monday, May 26th at 10:00AM in front of the Glosser's Building on the corner of Franklin and Locust Streets in downtown Johnstown. Photos from the shoot will be included in my new book, Long Live Glosser's, which is set for publication in October 2014.
If you come to the big reunion photo shoot, you'll see some very special guest stars: Bill Glosser himself, plus the one and only Ruby Shaffer, one of the famous Shaffer twins who brought everyone so much joy while working in the Glosser's cafeteria for many years. So be sure to join us for the big reunion and see some faces from the fabled past of Glosser Brothers Department Store and Johnstown, PA!

Send to Kindle