Get ready for one of my wildest stories yet!  It's a crazy scifi tale called "In a Green Dress, Surrounded by Exploding Clowns," and it appears in the latest issue, number 7, of Galaxy's Edge magazine!  Here's the stunning cover: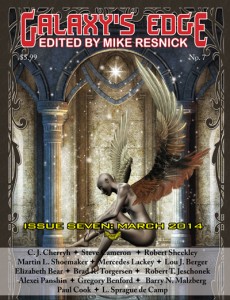 You can read the whole story online by clicking right here.  You can also support this fine publication, which features new and classic stories by a roster of exciting authors, by clicking here, scrolling down, and following the instructions to order a paper or electronic copy.  In this issue alone, you can enjoy tales from Robert Sheckley, Mercedes Lackey, C.J. Cherryh, Elizabeth Bear, Brad R. Torgersen, and yours truly!
So drop by the Galaxy's Edge website and see what they have to offer.  And be sure to give "In a Green Dress, Surrounded by Exploding Clowns" a read.  It's a crazy story about a world in which life is controlled by voting via social media…a process that leads to insane consequences when a media cop confronts the trolls who are ruining people for laughs.  I'll just say this:  the title tells you exactly what happens to the hero…though that isn't necessarily the worst part of his ordeal.  If you like wild stories with vivid characters and scifi themes that hit close to home, this story is for you.  Enjoy!

Send to Kindle