It's always a good time for a scare, isn't it?  Now that Halloween's got you in the mood, here's a spine-tingling new e-book about things that go bump (and much worse) in the night.  It's called Daddy's Little Girl, and here's the frightening cover by the one and only blazin' Ben Baldwin his own bad self: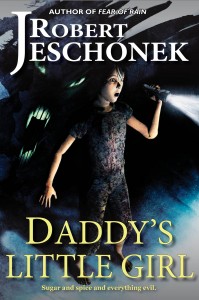 You can find Daddy's Little Girl here for the Kindle and Kindle apps, here for the Nook and Nook apps, here for the Kobo and Kobo apps, here for your iPad, iPhone, or other Apple device, and here on Smashwords. You can also search for it by name on your favorite device and will soon be able to find it in your local library using the Overdrive and 3M Cloud Library systems.
Here's a bit about the story to whet your appetite: Ever since the Voices started, little Bonnie can't sleep anymore. Every night, they whisper through the walls of her room, casting a dark spell over someone in her family…preparing them for a rampage of gruesome murder. What if the only way for Bonnie to save her family is to destroy someone she loves? And what if the secret of the Voices is even deadlier and more terrifying than she can imagine?

Send to Kindle