How does Tijuana end up in Massachusetts? Find out in my new science fiction e-book, now on sale from Pie Press. Here's the awesome cover by the one and only blazing Ben Baldwin his own bad self: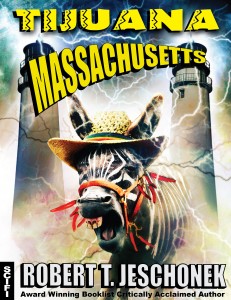 You can find it here for the Kindle, here for the Nook, here for the Kobo, and here on iTunes for the iPad or iPhone. Of course, you can also search for it by name on your favorite device or in your local library using the Overdrive system.
Here's a bit more about the story, to whet your appetite: Why does Cape Cod, Massachusetts keep changing into Tijuana, Mexico? Don't ask Patty, the foul-mouthed everything-hater with a memory full of holes. Every time the lump on her head buzzes, Cape Cod becomes Tijuana or vice versa. One minute, Patty sees lighthouses and well-dressed children; the next, she fends off pushy street kids and donkeys done up like zebras. Has she lost her mind, or is someone–or something–driving her crazy? Little by little, the truth seeps through…but the dark secrets it forces to the surface might be far more terrible than any illusion.

Send to Kindle