One of my latest e-books from Pie Press is featured on the super-cool website, superheronovels.com. Click right here to read the writeup on 7 Comic Book Scripts Strike Again. The author calls me "one of our favorite writers of superhero fiction," which is nice. Here's the cover of the book described in the writeup: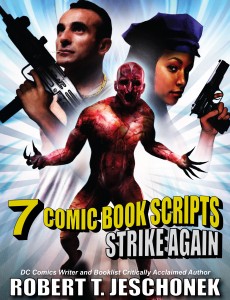 The author also says, "these ongoing compilations shine a light on his writing process and his delightfully cockeyed imagination." Very nice words from a very cool website. If you're at all interested in the rapidly expanding genre of superhero fiction, you ought to check it out. You might be surprised at how much cool new fiction is out there, and how much variety there is in terms of tone, character, and subject matter (in addition to all the exciting super-heroics, of course).
And if you're interested in my book, you can find 7 Comic Book Scripts Strike Again on your Kindle, Nook, Kobo, iPad, or other device by searching for the title. You can also find it here on Amazon, here at Barnes and Noble, here on Smashwords, and here on iTunes.

Send to Kindle