Ready for a cool new scifi audiobook? May I suggest you order a copy of Universal Language, the latest from Pie Press and yours truly? It's a story of a disastrous first contact on a Tower of Babel planet, one that will wipe out an alien species if a woman linguist can't end a war of words. Here's the cover by battling Ben Baldwin his own bad self: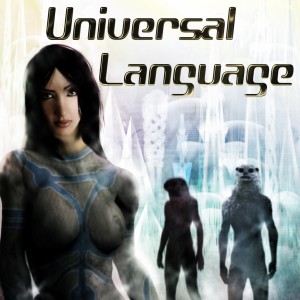 You can order Universal Language right here on Amazon or right here on Audible.com or right here on iTunes. If you like science fiction at all, I think you're gonna love it…especially because of the amazing narration by Audio Élan, one of the premier narrator/producers in the audiobook business.  Audio Élan really knocks it out of the park, creating a memorably thrilling audiobook experience featuring top notch audio acting and unbeatable production values.
Here's a bit more about the story to whet your appetite:
One mistake by space linguist Jalila could cost an alien species their lives.  The crew of the starship IBN BATTUTA has 24 hours to prepare the people of planet Vox to face an approaching invasion fleet.  But when Jalila mistakenly uses a forbidden slur, the Vox locals attack their supposed saviors.  Drawn into a violent revolution, a "war of words" to decide language dominance, Jalila must rely on other resources when deprived of communication technology and even the power of speech.  As revolution and invasion collide, only Jalila can save her shipmates and the planet Vox by revealing the secret behind the slur that started it all, the dark secret linking Vox and invaders in an ancient cycle of slavery, suffering, lies, and death.

Send to Kindle