How do comic books come to life?  Conception begins with a script…and you can read seven of them in my new e-book from Pie Press, aptly titled 7 Comic Book Scripts Strike Again.  Find it right here for the Kindle, here for the Nook, and here for the Kobo.  Here's the dynamite cover from Bodacious Ben Baldwin his own bad self: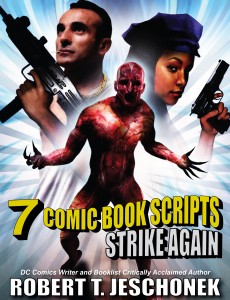 What stories will you find inside?  Here's the action-packed rundown:
"Hell's Treasure": A teenage girl has the power to talk to buildings…and the buildings talk back. Driven by guilt over her role in a fatal accident, she prepares to take a deadly leap, until a boy with mysterious powers of his own gets in the way.
"Pieces": Body Sisk is literally full of holes. Rogue pieces of his body have escaped and taken on deadly humanoid form. His only chance at a new beginning is to hunt them down and force them back into place…if he can.
"Made Guys": When mobsters get super powers, can anyone stop them? No one expects a group of black sheep outcasts to take a stand against the Temporale crime family…but they do. Can the black sheep seize their own piece of the action from the power-crazed bosses of the Mega Nostra?
"Mr. Straight-Lace Takes A Trip": The weirdest man you'll ever meet embarks on a search for love…and ends up falling for the girl terrorist who hijacks his plane.
"Made in J-Town": The odd little moments that make life profound tell the story of hearts and minds just trying to get by in Johnstown, Pennsylvania.
"Solitary": Super-mobster The Steel Sicilian can't escape from the prison town of Sargasso, where no one will talk to him…except one of his jailers, who needs a solution to a very deadly problem.
"Dirty": In a world where "evil" is "good" and vice versa, the ultimate dirty cop leads a war against the scum of the Earth who perform acts of kindness.  But when the cop is framed for good behavior, he finds himself on the run from the same corrupt establishment he dedicated his life to.
Sounds fun, doesn't it?  The best thing is, this is the latest in a series of script collections.  You can also order 7 Comic Book Scripts, available here for the Kindle, here for the Nook, and here for the Kobo.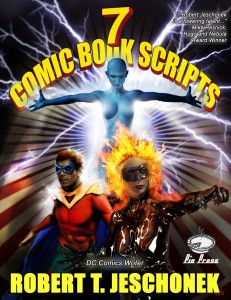 This one includes the following seven scripts:
"Super-Powered Poser Blues": A super-hero stand-in runs into unexpected problems while impersonating a mighty mortal.
"My Date With Godling": A hard-driving cosmic god-hero launches a mission under false pretenses…a mission that quickly goes from intense to insane.
"The Mime: On Bread Alone": An endangered priest is protected by a silent hero whose make-believe performances have real world consequences.
"Young Soldiers Never Die": A future warrior discovers that one man's idea of a perfect soldier is another man's idea of pure hell.
"The Child Is Father to the Man": The younger selves of three great old-time heroes leap forward to the future after suffering their greatest defeat.
"Johnstown Man: Losing Ground": A blue collar steel town hero battles crime in the age of layoffs.
"Don't Tug on Superstar's Cape": A super souvenir hunter goes after the ultimate prize from the ultimate hero and nearly loses everything in the bargain.
Then there's 7 More Comic Book Scripts, available here for the Kindle, here for the Nook, and here for the Kobo.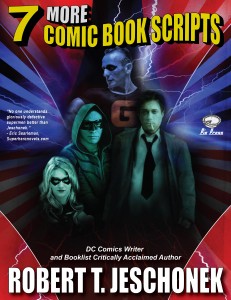 This one includes the following seven scripts:
"You're Listening to Alter Ego Talk Radio 1050": A radio call-in psychiatrist gets his kicks doling out advice to nutty superheroes…until he says the wrong thing to a head case with the ultimate power.
"The Cold Shoulder": How do you handle the world's mightiest Mafia enforcer gone rogue? Drive him to suicide, and hope he doesn't kill you first.
"Redneck Neighbor": What's worse? Having an obnoxious upstairs neighbor who's a vampire, or one who's a country music singer? Put them both together, and your life becomes a living hell.
"The Super Hitman's Secret Power": An F.B.I. agent who's about to lose everything seeks out the one man with the power to save him: his old enemy, the super hitman whose life he ruined years ago.
"Deadly Standoff": What happens when a superhero finds himself caught in a no-win situation? With a child's life at stake, can he still find the strength to make a difference?
"Hot Potato": An STD with a mind of its own seizes control of its host. Can the "Barnacles" be stopped before they drive a good man to commit an unspeakably horrific crime?
"Neil Ballantyne, Hellraker:  No Good Deed": A priest saves souls by summoning demons, proving the existence of Heaven and God by demonstrating the influence of Hell. But when his scheme goes horribly wrong, only Neil Ballantyne, the supernatural fixer, stands a chance of stopping a rash of atrocities.

Send to Kindle