A story of mine appears in the first issue of the new science fiction magazine, Galaxy's Edge…and it's free for the reading! Check out the online edition right here. You can also order a downloadable PDF version or a paper copy; just scroll down the home page for instructions. Here's the awesome cover, by the way: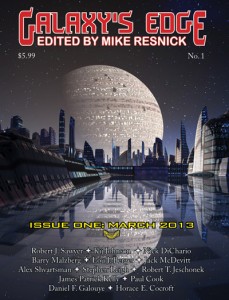 I wrote "The Spinach Can's Son" at a workshop in early 2012, and it made a bit of a splash. It's definitely one of my favorites out of all the stories I've written, so I hope you'll check it out.
Also, I wanted to let you know that I've just published my 90th e-book! So far, 7 Comic Book Scripts Strike Again is only available for the Kindle, but I'll let you know when it goes on sale for other devices and services. Click right here for the Kindle edition. Here's the cover by Blazing Ben Baldwin his own bad self: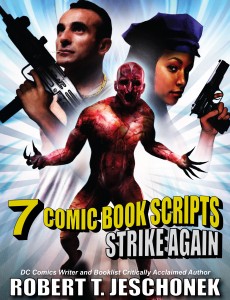 Here's a bit about what you'll find inside:
This volume includes seven scripts—a mix of super-mobsters, science fiction, urban fantasy, horror, and humor—from a writer whose work has been published by DC Comics, among others. Robert T. Jeschonek has written plenty of scripts in his career, and these seven will shine a light on his writing process, his wild imagination…and some thrilling and thought-provoking adventures. The latest in a series collecting some of his best work, this action-packed book includes seven scripts:
"Hell's Treasure": A teenage girl has the power to talk to buildings…and the buildings talk back. Driven by guilt over her role in a fatal accident, she prepares to take a deadly leap, until a boy with mysterious powers of his own gets in the way.
"Pieces": Body Sisk is literally full of holes. Rogue pieces of his body have escaped and taken on deadly humanoid form. His only chance at a new beginning is to hunt them down and force them back into place…if he can.
"Made Guys": When mobsters get super powers, can anyone stop them? No one expects a group of black sheep outcasts to take a stand against the Temporale crime family…but they do. Can the black sheep seize their own piece of the action from the power-crazed bosses of the Mega Nostra?
"Mr. Straight-Lace Takes A Trip": The weirdest man you'll ever meet embarks on a search for love…and ends up falling for the girl terrorist who hijacks his plane.
"Made in J-Town": The odd little moments that make life profound tell the story of hearts and minds just trying to get by in Johnstown, Pennsylvania.
"Solitary": Super-mobster The Steel Sicilian can't escape from the prison town of Sargasso, where no one will talk to him…except one of his jailers, who needs a solution to a very deadly problem.
"Dirty": In a world where "evil" is "good" and vice versa, the ultimate dirty cop leads a war against the scum of the Earth who perform acts of kindness.  But when the cop is framed for good behavior, he finds himself on the run from the same corrupt establishment he dedicated his life to.

Send to Kindle