Two weeks ago, I attended my first science fiction convention in years:  Farpoint, in Timonium, Maryland. I had a blast from start to finish, catching up with old friends, appearing as a guest on discussion panels, selling some books, and meeting some very cool celebrities. I have to admit, I'd forgotten just how much fun these kind of events can be! Here's a shot from one of my panels, where we talked about writing cross-genre fiction: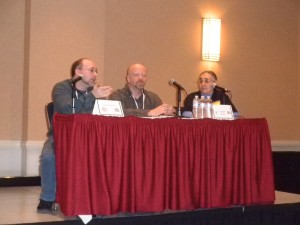 Here's a photo from another panel, where I talked about the business of writing with my good friend Bob Greenberger and my new friend, Aaron Rosenberg: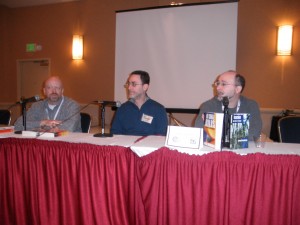 And here's another shot of me and Bob Greenberger, whom I've known since the 1980s. He knows the writing game, the publishing industry, and the comic book field inside out…and is a great human being, to boot.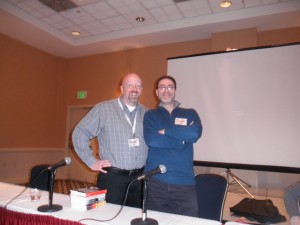 Finally, here's a link to Bob's own writeup about Farpoint 2013 on his blog: http://www.bobgreenberger.com/index.php/2013/02/20/farpoint-day-3/
All in all, it was great getting back in the convention state of mind. I'm looking forward to attending another in the not-too-distant future, and in fact have a few likely candidates in mind. It's a great time to be a science fiction fan, with so many events like these and the cool people who attend them!  And it's an even better time to be a writer who gets to show up and enjoy the fun while sharing information, stories, and laughter with the fan population.

Send to Kindle