That's right, my newest book is all about a finger…a pinky finger. But the finger is more than the star of the story…he tells the story! And this book, A Pinstriped Finger's My Only Friend, is available now, free, for you to read at the NetGalley website. Here's the cover by the one and only Brazen Ben Baldwin his own bad self: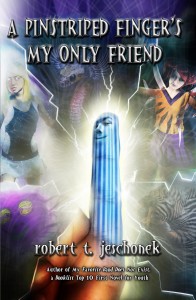 It's a wild fantasy about growing up, alternate realities, and the meaning of life, suitable for young adults or adult readers. And it's free, totally free!  Just spread the word to your family and friends…and drop a review, no matter how short, on your blog, Facebook page, Twitter feed, etc.
How to get the freebie? Just click this link right here and follow the instructions.  Here are a few more details to guide you along the way:
NetGalley is an innovative, easy-to-use website that provides digital galleys free of charge to reviewers, bloggers, media, librarians, booksellers and educators. NetGalley helps reduce our environmental impact while also giving you faster access to our titles!
You'll have the option to download the galley to your computer or read it on a variety of reading devices. Find step-by-step instructions here.
Be sure that you download Adobe Digital Editions (the program you'll need to view our galley) first – it's quick and free: http://www.adobe.com/products/digitaleditions/
If you have any questions, feel free to contact NetGalley: support@netgalley.com
So what's the story all about? Check it out:
Judd the popular 17-year-old jock has it all figured out.  He's the star of his school, the top of the heap…but then the world starts changing around him and won't stop.  Without explanation, everyone turns into purple furries…then gas-blasting puffballs…then neurotic lizards.  Every time Judd falls asleep, he wakes up in a new and crazier world–a world of godlike super-teens, teenage serial killers, duck people, nudists, monsters, and more.  It's like a twisted video game without rhyme or reason.  The rules never stop changing, and the only thing he can depend on is his talking pinky finger with a major attitude.  Together, he and Pinkerton (the finger prefers the name "Killdigit!") fight through the parade of crazy realities, seeking a way to get back to normal.  But what if normal just isn't an option anymore?

Send to Kindle