What happens when a mad scientist meets a cannibal? Find out in the new audiobook Mad Scientist Meets Cannibal, now on sale here from Amazon and here from Audible.com. You can also find it on iTunes. Here's the cover from Bulletproof Ben Baldwin his own bad self: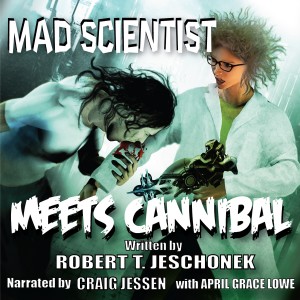 Mad Scientist Meets Cannibal is narrated by the one and only Craig Jessen, with an assist from April Grace Lowe. Let me just say how stellar the narration on this production truly is; Craig and April bring the characters to life magnificently well and lace each story with music that perfectly enhances the atmosphere. I think you'll love it.
When you order Mad Scientist Meets Cannibal, you'll hear five science fiction and fantasy stories by yours truly. Here's a bit more to whet your appetite:
Welcome to the world of Mad Scientist Meets Cannibal. Where else can you come face to face with a giant rhinoporcupine? Dream the future in a jazz tune from Hell? Hunt down outlaws who commit the crime of love? Eat a walking, talking human feast? Find passion behind the labcoat of a smoking hot mad scientist?
In these pages, Robert T. Jeschonek will take you on a tour of the wildest places and people you've never imagined. You've never met anyone quite like Dr. Hildegarde Medici, the mad scientist worshipped from afar by her twisted assistant, Glugor…or the Genebillies of Best Virginia, rip-snortin' genetic engineers in the moonshiner tradition…or Manny the Ration, an edible man who feeds more than empty stomachs in an alien landscape gone berserk.

Send to Kindle