Flight of Ideas is flying high! Flight, my poetry collection from Pie Press, has been named a finalist in the poetry category in the 2013 EPIC eBook Awards. It's an honor to be named and an honor to be part of such a cool organization in the first place. EPIC, the Electronic Publishing Industry Coalition, is all about promoting the interests and works of e-book authors and publishers like myself.
Here's the cover of my book, illustrated by Barnstorming Ben Baldwin his own bad self: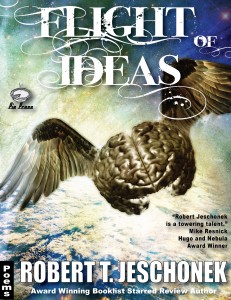 Honestly, it's one of my favorite Baldwin pieces. You can find the e-book version of Flight of Ideas right here for the Kindle, here for the Nook, here for the Kobo, and here for other devices via Smashwords. You can also search for it by name on iTunes. I hope you'll check it out and perhaps recommend it to friends and relations who enjoy poetry.
And let me just say that the poems in this volume aren't your run-of-the-mill verse. There's a mix of different styles, most outside the box in one way or another. For example, here's a prose poem piece to whet your appetite:
Miles in the Morning
Miles Davis walked up to me this morning on my way out the door.  He shook my hand, smiled, and promised that he would get me through the day.  I knew that this was a bold claim, as I had a tough day ahead, but Miles' firm grip and confident wink gave me the lift I needed to get rolling.  As I slid down into my car and backed out of the driveway, I kept my window down to hear as much of the tune he was playing on his trumpet as I could.  It was beautiful…light notes rippling from the bell of his horn like a stream of water, like the call of the first bird of the morning starting up the dawn chorus.  I stopped on the street and listened, and I swear I got a chill straight up my back, cool and slow like one of Miles' long high notes.  He waved a hand at me, "Shoo, get going," and then he closed his eyes and played the kind of drifting, dreamy ballad that he does so well, so perfectly every single time.  Doo doo…dee doo dee da…da dee…da doo…deeee.  Standing in the dewy grass as red gold purple leaves fluttered down around him, sky a shimmering bright blue, his back straight, his face unscarred, unworried.  Dee dee da…doo dee deeee.  I wiped a tear from my cheek, wishing I could listen all day and night, and then I checked the clock on the dash of the car.  Running late again.  Miles' eyes were shut tight, but I had a feeling he saw me wave goodbye as the car rolled forward.  One last long note, which I never did hear the end of, and then I'd gone too far and couldn't hear him and couldn't see him in my rear view mirror either.

Send to Kindle