That's right:  Tijuana is now part of the great state of Massachusetts…at least in my story, "Tijuana, Massachusetts," which appears in the brand new anthology Mirror Shards Volume 2!  Here's a look at the very cool cover: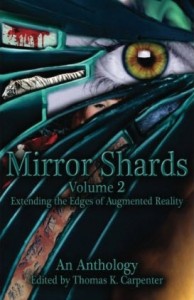 This awesome collection tells stories of augmented reality, in which perceptions of the world around us are modified in some way by technology.  These glimpses of the future that is not so far away were written by a group of top authors and edited by the one and only Thomas K. Carpenter.  I hope you'll check out this very cool book!
You can order a copy of the paperback right here from Amazon.  Score a copy of the e-book right here for the Kindle, right here for the Nook, and here for other formats provided by Smashwords.

Send to Kindle