The weekly e-book serial continues! Last week, Pie Press launched the thriller Heaven Bent, on sale for the Kindle, Nook, and other e-reading devices. This week, you can check out the next exciting chapter, Heaven Bent, Part 2. Here's the suh-weet cover by ballistic Ben Baldwin: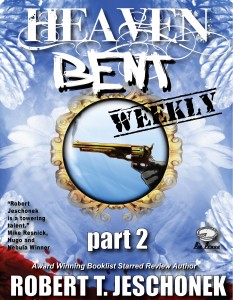 Here's a quick rundown of this latest chapter: Stag the movie star was on a roll. But when he ignored a warning from his own future self, he ended up dead. At least he made it to Heaven–but it's a Heaven unlike any he ever imagined, filled with dangers, secrets, and an incredible cast of friends and foes. A Heaven that might just hold the key to a shocking destiny beyond anything dreamed of by man or god. In Part 2, Stag plunges into an explosive confrontation that blows the lid off a revolution in the making. He renews an old friendship that puts him at risk, then faces a final judgment that just might end his heavenly stay with a bang. If only he can survive and hold on, Stag might get to the bottom of it all in this place that's so much more than what it seems.
Heaven Bent, Part 2 is on sale here for the Kindle, here for the Nook, and here for other e-reading devices. The price is a mere 99 cents. And you can still check out Part 1 right here for the Kindle, here for the Nook, and here for other devices, too.
I hope you'll give it a try. It's twisted, funny, and exciting, with plenty of cliffhanging shocks and surprises. If you like Lost, Alcatraz, Alias, or even Once Upon a Time, I bet you'll like Heaven Bent, too.

Send to Kindle