In the mood for a slice of fantasy adventure?  My new e-book, The Sword That Spoke, is now on sale!  Check out the glorious cover by blazing Ben Baldwin, illustrator extraordinaire: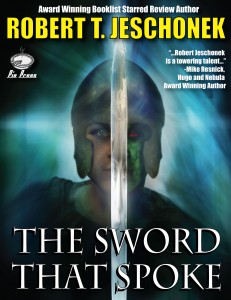 Pretty groovy, huh?  Here's a little about the story: Once upon a time, the sword Tizona helps the warrior knight El Cid cut a swath through the Moors invading Spain. But El Cid doesn't know the great sword's secret: that it has a mind of its own and talks only to his beautiful wife, Jimena. Together, Tizona and Jimena help El Cid wage his battles, until a demon of war takes possession of his body and soul. When woman and blade unite, can they free the legendary hero from the demon's wicked clutches?  Or will the shadow of the horrors of war overcome all of them?  Perhaps, in the sword's cryptic prophecy, lies a secret that will turn the tables of history, love, and death.
If you like A Game of Thrones or The Lord of the Rings, you might get a charge out of The Sword That Spoke.  You can find it here for the Kindle, right here for the Nook, and here for most other formats.  Give it a try and see if it makes the cut on your recommended reading list!

Send to Kindle