It's time for another six-pack…of stories, that is.  The latest collected edition of my science fiction tales is now available from the one and only Pie Press, titled (appropriately enough) 6 More Scifi Stories.  Get a load of the cover, a mix of images by the incorrigibly awesome Ben Baldwin: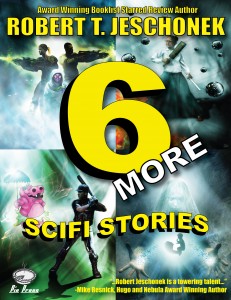 This is my 41st e-book title (big 50, here we come!), and you can find it by clicking right here for Kindle, right here for Nook, and here for all other available formats.  It's a pretty great deal, if I do say so–five full-length scifi stories and a short-short for the low price of $2.99.  Normally, the full-length stories sell separately for 99 cents each, so you'll be saving a couple bucks if you order this nifty collection.
Here's a rundown of the stories within, to whet your appetite:
In these pages, Robert T. Jeschonek will take you on a tour of the wildest places and people you've never imagined.  You've never met anyone quite like Nona Stiletto, the sexy cyborg exterminator who takes on a planet of alien monsters…Thal Simoleon, baseball player of the future, condemned to death for losing the world series…Cilla Franklin, an American teacher whose students are naked killer savages…Mike the Future Man, a high tech time traveler fighting to find a missing child…Vicky Dozen, the bioengineering genebilly whipping up rhinoporcupines in Best Virginia…or Philippa the cross-dressing Conquistadora of outer space.
Don't miss these edgy, exciting, and surprising science fiction tales by a Star Trek and Doctor Who author.  It's the latest collection from award-winning storyteller Robert T. Jeschonek, a master of unique and unexpected science fiction that really packs a punch.  This volume includes six scifi e-book stories and novelettes for one low price:
"One Awake in All the World":  Stalked by hordes of savage creatures, space exterminators Nona Stiletto and Pass Candle fight a war for survival against impossible odds. Their only hope: an abandoned alien child who might be the last of her species left alive.
"Give the Hippo What He Wants":  In the baseball league of the future, losing the World Series will get you the death penalty.  Thal Simoleon choked because of an opera-singing pink hippo that only he can see.  But when he goes on the run, he can't escape that damn hippo, which just might be leading him toward the final inning of his life.
"Teacher of the Century":  Welcome to the school of tomorrow, a nightmare of high-tech savagery.  Tribes of genetically and cybernetically enhanced students rule the classroom.  Weaponized parental A.I. drones terrorize teachers.  One teacher stands alone against the insanity, but her old-school ways might be the death of her.
"Off the Face of the Earth":  When a little boy disappears off the face of the Earth, his good-for-nothing father turns over a new leaf and sets out to track him down…but it takes a strange visitor from the future to point him in the right direction.
"Something Borrowed, Something Doomed":  The wildshiners of Best Virginia make bioengineering seem like magic. But the genebillies of the prank-loving Dozen family take it too far when they start out wrecking a wedding and end up bringing on the apocalypse.
"The Cross-Dressing Cosmic Cortez Rubs Off":  Philippa the cross-dressing space Conquistadora will do anything for ratings, but can an alien king change her heart with his mystical secrets?

Send to Kindle